Weather & Time
Time-
Day 12, Month 2, Year 1!
Weather-
The storm has stopped, heading east. It's still extremely wet, droplets falling from objects. The grey clouds have completely vanished and the sun is warming up the world once more.
Date-
16:57 am, 7th of July, Summer/Spring in Canada/RP

Name: Eros
Nickname: Ero (Arrow), Ro, Er (air)
Gender: Male
Species: Artctic, Tundra, and Red wolf
Rank: Pup
Pack: Distant Bloods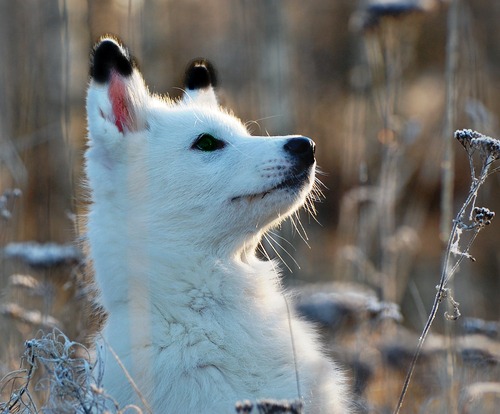 Build: Well currently his body does not reveal his true build, but as he grows, he shall look similar to Chaos. A large strong build, with long lean legs. For nowm he's just a little fluff ball.
Fur Texture: His adult fur is slowly growing in, it will have a soft lush under coat with a smooth silky top layer.
Fur Color: Eros is pure achromatic, aside from his ebony-tipped ears and ebony-tipped tail.
Eye Color: Eros' eyes are a mixture of Chaos' mother's (Aura) pale blue, and his father's (Sitka) a deep rich emerald. Creating a dark teal-aqua. His eyes are darked near the outter edge, then get lighter around his pupils. Scattered flecks of bright honey fill this young wolf's eyes, just like Chaos.
Markings: He has none
Scars: None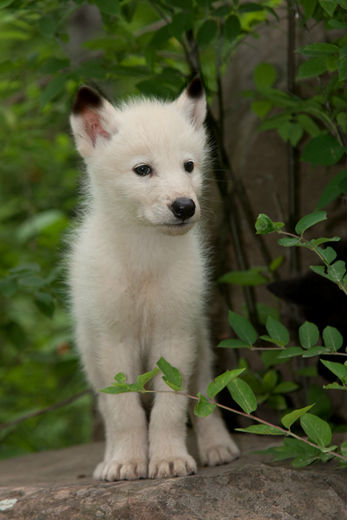 Age: 10 Weeks
Personality: Eros is much like his father, he can be distant at times and keep certain things to himself. But in the end, if someone is in trouble, he will attempt all he can to help. Eros wishes to be strong and large like his father, this pup may not be fully grown, but he's just as brave and courageous.
History: His father Chaos purchased a bottled pup, creating Eros. Yes, Chaos is Eros' blood father, they are biologically releated
Strengths: He's brave, and will try his hardest to help, His small size makes him able to weasel though small places. He's young but he's very clever and cunning. He has many hidden strengths that will soon be realized.
Weaknesses: He's just a pup, he has many
-Skills-
Strength:
Speed:
Wisdom:
Stamina:
Other(optional):
Pup







Similar topics
---
Permissions in this forum:
You
cannot
reply to topics in this forum